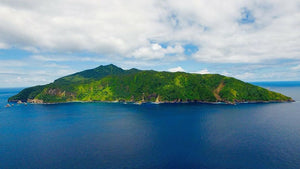 Costa Rica Expands Cocos Island National Park
In reading the Tico Times on December 17th, we came across an amazing and uplifting article about some exciting developments in Costa Rica. As you know, Costa Rica is beloved for it's epic surf and beautiful landscapes. Also through a personal experience while traveling to Pavones with my husband, I believe readers of the HNKL Blog can agree that Costa Rica holds a special place in all our hearts. Not only because of it's surf, but because of the culture, people and delicious food that it has to offer.
"Costa Rican President Carlos Alvarado signed a decree expanding Cocos Island National Park, increasing the fully protected area in its Pacific waters by nearly 53,000 square kilometers. Cocos Island National Park is a fully protected area that prohibits fishing and other extractive activities, and was designated a National Park by the Costa Rican government in 1982.
President Alvarado also created the Bicentennial Seamounts Marine Management Area, twice the size of the expanded Cocos Island National Park, which will include some no-take (space set aside by a government where no extractive activity is permitted) areas and strengthen fisheries management.
This expansion follows an agreement signed between the presidents of Costa Rica, Panama, Colombia and Ecuador at COP26 on climate change in Glasgow last November 2. This agreement, in part, committed to protect a total of 500,000 square kilometers in the eastern tropical Pacific. The region is home to endangered species of sharks, sea turtles and marine mammals that migrate between marine protected areas along "marine corridors".
Read more on the Tico Times here.
---