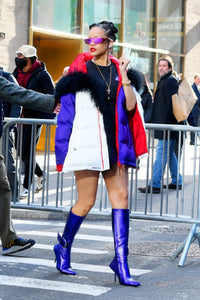 Are Puffer Coats backin?
Rihanna Photo: Backgrid
Honestly when I think of a puffer jacket, I just think I'm gonna look like Fat Joe in his famous orange puffer in one of his music videos from the 90's. I don't think its a good look and I'm not sure how I feel about bringing back the style. However one influencer that I had had my eye on lately is Sammi Jefcoate on Instagram (@sammijefcoate). She dresses up a puffer coat from Prada and makes it look flawless. I mean, not all of us have the cash to splurge on a gorgeous Prada, however what I really like about her style is that she is uniquely herself! Definitely fashion vibes all the way! Especially since our motto is all about being unique. We might have to send her a few of our designer pieces.
However, Vouge on the other hand just recently wrote an article about how puffer jackets are making a come back and I'm not sure how I feel about designing a puffer jacket. Most of the ones that I see are quite boring and only made stylish with a bit of metal finishes. Perhaps now that the days here in Los Angeles have been a bit gloomy I might consider designing a puffer jacket. I think I would go for bright neon colors to stand out from the sleeze of "black" that roam the streets on a rainy day. Although sometimes it's nice to disappear in the darkness when its so cold outside and you don't even want to go out side. Perhaps, if your gonna go outside to fill up on gas or to run some errands, why not go out in a warm stylish puffer right? Take this look from Kim Kardashian for example.
Kim Kardashian Image: Getty Images
Maybe what we can do is take on some more inspiration from some bold colors in order to jump on board with these trends and see if we can tweek it and make it a bit more....bad ass! I remember seeing a photo of myself in a puffer jacket and they did not look like this. Also, since when did draping it off the shoulder become a thing? If I'm cold I'm not gonna just hang my puffer coat off my shoulder like Arianna Grande so that I can look cute. I'm freaking cold! I'm gonna zip it up to my neck and poke my face through depending on how cold I am! 
Read more about Vouges article written by Christian Allaire: " It's easy to toss fashion out the window when temperatures plummet. It's hard to deliver a look when the brisk air feels like knives against your skin! Generally, a giant puffer coat is the sign of fashionable defeat. It doesn't matter how fabulous the outfit beneath is, a matte black, ankle-length puffer rarely has you feeling your most stylish. But, it turns out you can be both snuggly and formal this winter—at least, that's what celebrities are proving. Stars like Rihanna, Irina Shayk, and Bad Bunny have all elevated their puffer coats by choosing styles in unexpected colorways or silhouettes." Click here
---